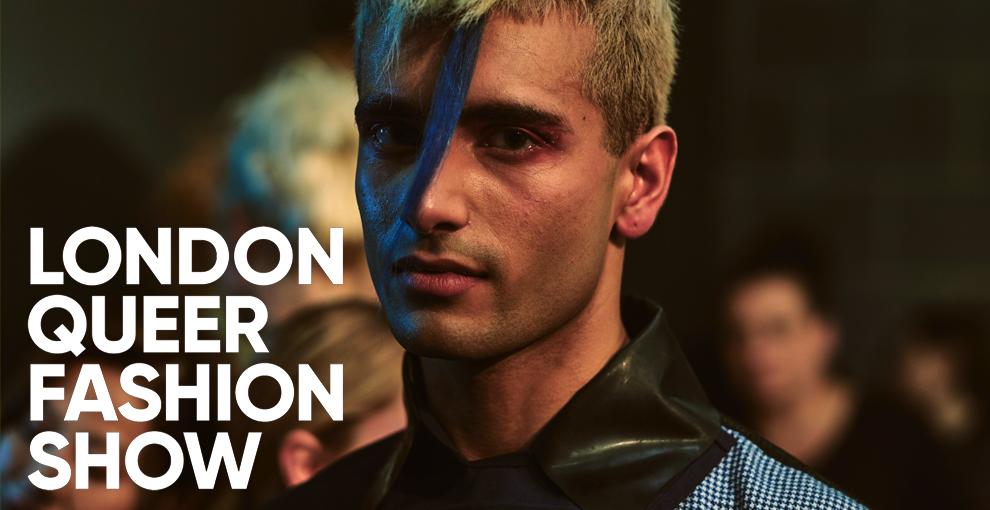 On September 21st the V&A opened it's doors for a groundbreaking fashion event exhibiting 11 LGBTQ+ designers as they hit the stage with their latest creations. #WalkOn
This is London Queer Fashion Show's 2nd year running, showcasing both established and emerging designers. Fully loaded with a cast of 100 models of all shape and sizes from across the queer spectrum proudly strutting their stuff down runaway to an audience of nearly 1000, this really was a celebration of the diversity and multiplicity of the queer community.  
London Queer Fashion Show CEO Robyn Exton spoke out on the importance of the event, stating how "the hunger for representation that the queer community now demands is finally being met". He's proud to share that "If mainstream labels aren't able to reflect our identities, then we will do it ourselves."

Unisex Yin Yang Hat & Sweatshirt Model: Sabah Choudrey  Designer: Maxine Abbott
"Platypus value the importance of creative culture that goes against the mass-produced and often soulless nature of the wider fashion industry." 
 When we get dressed in the morning, we quickly construct an identity that expresses who you are to anyone you encounter that day. The clothing we choose is such an integral part of how we express our identity, and so naturally, it goes hand in hand with gender identity. The queer aesthetic is not new, "From the punk movement, to the super-machismo chap fetish aesthetic of the early 80s to our current moment of street-style meets colour and kitsch. These styles are all too often appropriated by major fashion houses" Although androgynous models have been a staple with the fashion industry, since the mid-60s and LBGTQ+ people are commonly fetishised, or exploited for 'edgy' or 'exotic' aesthetic. But the problem with fetishising "types" of people such as trans women, specific races or ethnicities, and/or fat people  –  we're forced into stereotypes, treated as objects of worship or debauchery instead of human beings with all our unique complexities.

Send Nude T-Shirt Model: 

Tuvia Borok

  Designer: Maxine Abbott 

 

The tone of Platypus strips away at the hard edges of gendered dress striving for comfortable, accessible products that are essentially genderless. With individualism being the main pillar our creative identity revolves around. When people wear our clothing we want them to be strong individuals that think for themselves, challenge the narrative and make a bit of trouble. 

 
"From gender neutral slogan tees to stylish streetwear pieces the collection really allows the consumer to embody free-thinking and authentic expression wherever they are."
Models Yvvone and Saski Backstage at London Queer Fashion Show
Designer Marco Morante who featured all trans models for his 2018 Runway Show at New York Fashion Week spoke aptly on the issue, saying:

"The fashion industry fails many people not just trans, but also queer, plus size, and people of colour. Designers have always made great efforts to move the culture forward. Fashion as an art is consistently at the vanguard of inclusion, but as a business, it is also privy to tokenism in order to 'say' it's progressive without hurting its bottom line. This problem is endemic to the corporatization of fashion, especially fast fashion which intends to digest every trend as quickly as possible in order to make a quick buck. "

What it boils down to, in the end, is simply that most of the representations of queer life have been out of the hands of the people concerned, Events like London Queer Fashion Show are taking steps in the direction of remedying the problem, injecting the mainstream landscape with a dose of realism, authentic self-expression from people of that community.  
Show attendees posted enthusiastic reviews of the show on social media,
@simplymschloe said: "About last night… I had the most amazing time at my very first @londonqueerfashionshow. The amount of creative talent in the building was phenomenal. The collections, the models, the performers so much #LGBTQ #excellence."
@scottorms gave an incredible review on our streetwear collection: 
Tags: Streetwear fashion, UK Streetwear Fashion, Queer fashion, LQFS, streetwear brand, independent, designer, Maxine Abbott, Londo Queer Fashion Show 2018
Sources:
https://www.pinknews.co.uk/2018/09/24/london-queer-fashion-show-photos/
https://broadly.vice.com/en_us/article/3kezjv/marco-marco-first-all-transgender-models-fashion-show
https://qxmagazine.com/2018/09/london-queer-fashion-show
https://nowfashion.com/lgbt-marketing-inclusivity-or-fetishization-23566