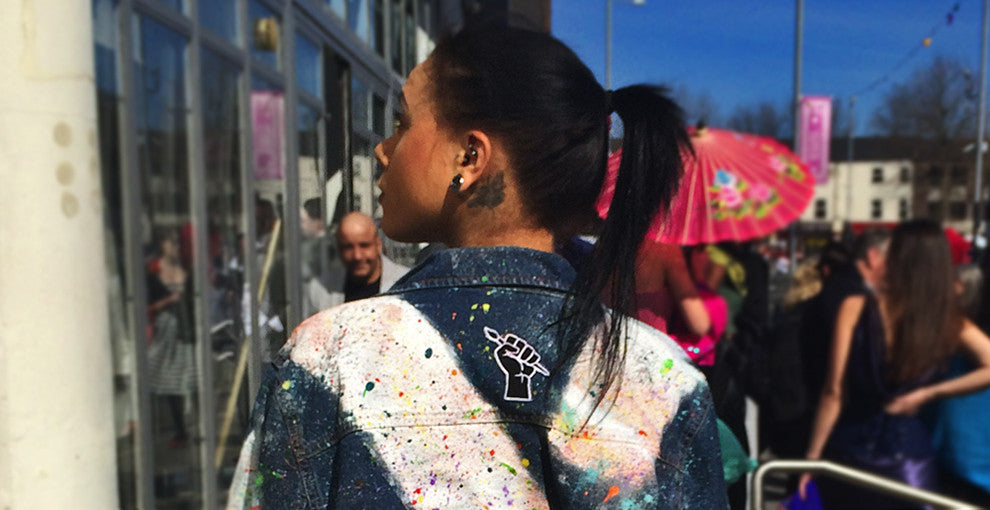 Music: @Essexofficial
On Saturday 25th of March, as part of Nottingham Fashion Week. 10 of Nottingham's independent clothing brands joined forces, to give Nottingham a taste of the vibrant variety the independent scene has to offer - in the form of a city takeover catwalk event.
Styles ranged from gothic couture and luxury menswear, all the way down to sports and street wear. Heads were turning, as over 40 models and fashion designers marched their way through the streets of Nottingham. The parade set off from One BC on Sneinton Market and traveled through Hockley and Nottingham City Centre.
Some of the fashion brands featured included, Platypus UK (That's us!), One BC, Eternal Sprits, Cookie Couture Clothing, Jake Ka-Ho Leung and Genius Clothing.
"The atmosphere was fantastic, everyone was loving it. We definitely made a statement showing the public, the wide diversity and creativity Nottingham's Independent fashion brands have to offer." – Designer, Maxine Abbott (Platypus Clothing)
The event was held to raise awareness of the independent side to Nottingham's businesses and encourage public support of our independent companies.

Organiser and designer, Susi Henson said: "The reaction from the public was incredible. It was a huge, strong parade in the glorious sunshine.

"It just goes to show that there is a lot of talent in the city that should be celebrated and showcased."

Read more at http://www.nottinghampost.com/why-were-models-parading-through-the-city-centre/story-30227913-detail/story.html#As9ipBhobiChCAkS.99

 Related Stories:

Notts Fashion Week 2016 - Indenpendent Designers Showcase

Tags: independant clothing brands, nottingham, fashion week 2017, street style, streetwear blog, street clothes, platypus uk, british fashion, one bc