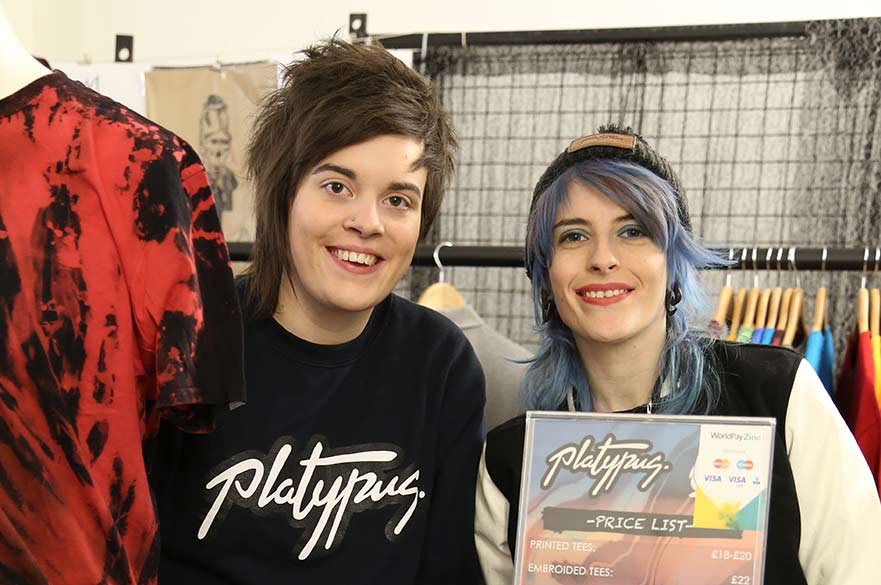 NTU alumni Maxine Abbott and Sarah Esau are two of more than 2,660 young people in the East Midlands who have received help from youth charity The Prince's Trust to become self-employed over the last ten years.
They met at NTU while studying and in their third year were part of a fund-raising committee responsible for funding their end of year degree show which raised over £12,000. While doing this Maxine and Sarah gained experience in organising events and selling merchandise and gained the confidence to set up their own business.
After graduating Maxine and Sarah decided to combine their skills in graphic design to start their own venture and established creative streetwear brand Platypus UK in Nottingham in 2014. ... "We'd had some experience of organising events in the past, but entrepreneurship was a whole different ball game. Now we're established, gradually growing the business and we're excited about the future."
Maxine and Sarah pride themselves on providing unisex, handmade, limited-run clothing so that designs stay fresh. But Platypus is more than just a fashion brand. Currently, 10% of their sales from their Left Lion t-shirt goes to Emmanuel House, which supports homeless and vulnerable adults in Nottingham.
"We want the business to be involved in the local community and to support local causes. We also want to provide opportunities for others and to work with young creative minds in fashion, design, music and art. We have made Nottingham our home because there is a real sense of community here and we believe Nottingham will become one of the main UK cities for supporting and discovering upcoming independent brands and we want to be part of that."
The #MyBigIdea campaign is run by The Prince's Trust and NatWest, to encourage more young people to seek support and consider setting up their own business.
Read the full article on Nottingham Trent University website. 
Related Articles:
Nottingham Fashion Week - Independent Designers Showcase 2016
Colab & Interview with Body Artist Staudz | Artstyle @ Platypus UK
Platypus UK Review featured on Ttthreads.com
Tags: Nottingham Trent Alumni, Sarah Esau, Maxine Abbott, Platypus UK Streetwear, Independent Clothing brands, Handmade street fashion, Unisex, Graphic Design, Emmanuel House, Notts Pride T-shirt.
Photograph courtesy of Video Mat